An ambitious project of enhancing the Medians of the Dual Carriageways in Bahamia is clearly underway. All of these Medians throughout the Development will be curbed and landscaped starting with Pinta Avenue (see inset pictures) at South Mall Drive.
Some of the old trees that have no appeal or have grown too tall and are masking the street lighting will be removed and lower profile aesthetically pleasing trees or palms will be planted in their place. This is clearly a further example of Harcourt's and Bahamia Service Company's commitment to the enhancement of Bahamia.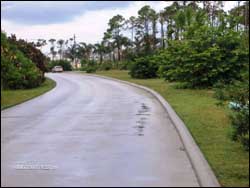 Pinta Avenue Curbing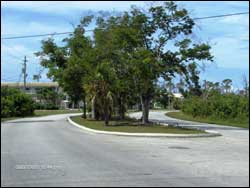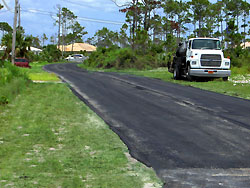 Lakeview Drive
Bahamia Service Company (BSC) has contracted with Freeport Construction to begin its 10-year roadway resurfacing program for Bahamia. It is BSC's intent to schedule the resurfacing of the most distressed roadways, or portions thereof, in the Development. Initially for the 2005 budget year, BSC has already started with Lakeview Drive, Greenway Drive and Greenway Court in the Bahamia West Replat Subdivision, (see inset pictures). In short order, BSC will schedule to resurface a portion of Ellis Lightfoot Avenue, near West Sunrise Highway in Bahamia North. A portion of Pinehurst Drive adjacent to Pinta Avenue in Bahamia South is next in line followed by Pinta Avenue, from South Mall Drive to the circle at Dundee Bay Drive after the curbing has been completed to this point. BSC expects this work to be completed by the end of this year.
In budget year 2006, again the more distressed roadway's in Bahamia are scheduled for resurfacing, i.e. Doubloon Drive, Rum Cay Drive and the balance of Pinehurst Drive in Bahamia South and Montrose Drive, Westview Drive and a portion of Aberdeen Drive near Pinta Avenue in the Bahamia West Replat Subdivision.
It should now be very evident to the landowners and residents of Bahamia that Harcourt/BSC is quite serious about its up-grade program for the Bahamia Development. Other projects are also in the planning stage that the residents in Bahamia have formerly told us about and we hear you. Besides the resurfacing, the mention of "Parks" rings loudest and again, BSC hears you but remember all these improvements take money. Money we receive in the form of Service Charges from the landowners. Bear in mind that the one sure way to "accelerate" these improvements in Bahamia is for all of our clients to bring their accounts current. If you all do, we could reduce the timing of the 10-year resurfacing program considerably. In addition, BSC can create the parks you want in short order, quicker enhancement of the roadway landscaping and initiate many more projects we presently have on the drawing board to make Bahamia, your residential Development, the envy of Grand Bahama. Think of it, where will your property values go to?